Several weeks ago, a client came to us with and asked to help her eye brow appearance (work was done before seeing us) and she walked out totally transformed (work done after seeing us). Her prior Microblading experience was performed with too much red ink and too deep into her skin. We had the perfect solution for her:  it's called our  "Ombre Wow Brow" technique.  This technique was the perfect solution for to correction, reshape and covered up the look she had prior to seeing us.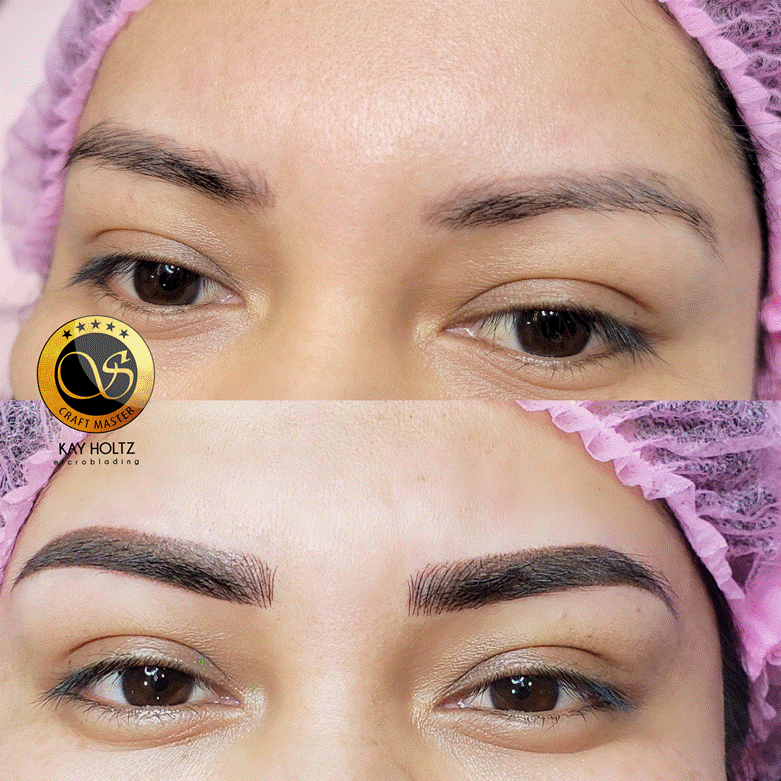 The after picture shows her immediate transformation after her brow service.  It several weeks, her final healed result will be 40% lighter in color and 20% smaller in overall size...perfection!
Powder brows technique has been around for centuries. Our skilled and talented technicians have taken it steps further and call it our "Ombre Wow Brow" technique. The work is performed by a state of the art and highly technical #permanentmakeup machine used by our trained technicians. The cartridge inside the machine inserts the pigment into the epidermal/dermal junction of the skin. During the healing process, part of the epidermal layers will be scabbed and replaced by the new layers. That's why the healed result will be 40% less pigment comparing to the immediate right after. 
We understand that everyone's body and skin heals differently. We know that oily skin or immune system issues can play a big role in eyebrow color retention. Our highly skilled and trained permanent makeup artist technicians  are super knowledgable and will provide you the look that you desire while attending to your unique skin and body traits.
Our goal to to have our clients decide what technique and style suits their desired look. Our mission is to provide our clients beautiful brows that will last for years to come.
At Minnesota Brows Lash Studio & Academy, we offer a state of the art facility, the most technologically advanced products and equipment and staff who are highly skilled and talented in their work.  
Minnesota Brows Lash Studio & Academy is not only her to service our clients, did you know that we also offer many career training courses in Permanent Makeup, Eyelash Extensions, Continuing Education and other Esthetics Medspa practices?  At Minnesota Brow Lash Academy, we not only teaching you the skills to make you successful, but we offer a lifetime support system with our courses.  We are a Minnesota Private Career Institution as part of the Minnesota Board of Higher Education.  
For more information, call us at: 952-938-0358
Or our Website at: www.mnbrowlashacademy.com
Sign up to receive information