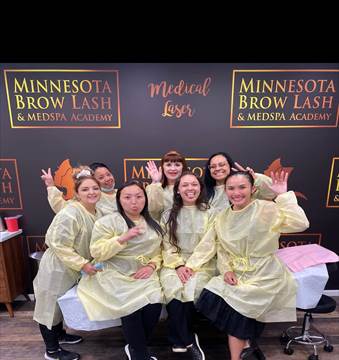 In our fast paced world, stressful jobs and being stuck behind a desk is common. So if you decide to take your life back into your hands you might find yourself a little lost. Luckily, the job market is expanding every day and new professions are emerging.
One of the more recent very profitable professions is becoming a Permanent Makeup artist. If you're a beauty enthusiast but want to reorient to a more lucrative and exciting field, here is a full guide on how to find your way in the Permanent Makeup world.
Starting a New Career in Permanent Makeup Step by Step:
Enroll in our 6 Day Fundamental Permanent Makeup Training Course: At Minnesota Brow Lash & MedSpa Academy, we know that you want to learn and excel. We combine a solid foundational training model along with an amazing student support system. Our fundamental training is not an online training program nor is it like watching demonstrations on YouTube. Rather, our training requires hands-on practice and onsite dedication and hard work. We focus deeply on theory, principals and industry leading techniques. Our students who go through our foundational training program achieve greater success in their career. Our 6 Day Course teaches you hand tool and machine techniques. This fully rounds out education in manual work and machine work.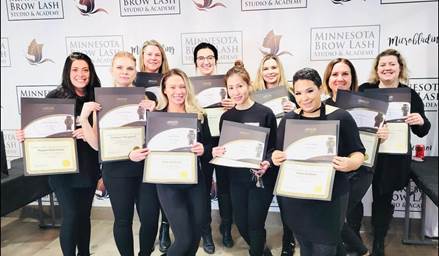 Thorough Experience: After a very detail oriented  6 Day Training, experience is crucial. In the State of Minnesota, the Department of Health requires a 200 Hour Apprenticeship in a licensed facility in order to obtain a body art license. Some of you may be sighing right now…BUT this is good news, why? Through an apprenticeship you get valuable experience underneath supervision. When you take our apprenticeship program, our supervisors are expertly trained in Permanent Cosmetics guiding you through your 200 hours. During apprenticeship friends and family up to 10 people can be complimentary.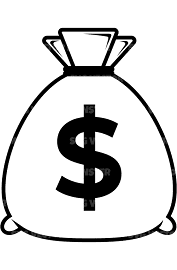 Consider Initial Investments:
When it comes to finance, the only inevitable investment is a quality course. If you decide to start a business, you will also need to invest in equipment (a bed for clients, tools and supplies) and workspace.
So make sure you have the initial capital before you start your journey. Once you start earning, you can invest your profit into expansion
Hard Work & Dedication
Bear in mind, the competition is getting strong in the Permanent Cosmetics game, so in order to stand out, your technique must be top notch. To achieve desired skill set, hard work and consistency is a must. To become a successful artist, you need to train your hand and eye by doing as many pairs of brows as possible (first on props, than on live models, and eventually on clients).
The MN Brow Lash and Medpsa Academy concept includes guidance from master artists even after the course is over, so you'll have all the support you need.
Permanent Makeup is an exciting, dynamic profession. It's the perfect way to channel creativity and passion for beauty into something profitable. With a bit of persistence and a lot of work, you're bound to succeed!
Sign up to receive information