As someone who is considering entering the exciting field of lash extension work, it is highly reassuring to know that your chosen line of work is booming, with no indication of slowing down.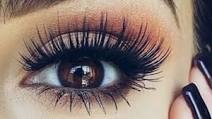 In fact, in a recent ABC News Report that looks at how false eyelashes have become an everyday accessory, the market is found to not only be growing, it is projected to reach a whopping $1.5 billion in the next five years in product alone. Thanks to the ability to customize a look for each customer, the market has a large selection and variety of basic to unique and colorful eyelashes. The procedure has become so common, the article notes, that many women feel like it's the same as going to get your hair done — in other words, a typical appointment that women fit into their everyday lives.
According to industry reports, 75% of lash artists earn up to $50,000 a year, and 25 percent have worked in the industry for five or more years. A whopping 80% of lash experts surveyed responded that they are either satisfied or very satisfied with their careers, and 63% are earning the income that they expected.  
How do you go about looking for that educational facility that will know you, work with you and develop you? 
Look no further!  Minnesota Brow Lash Studio & Academy has what you need to become educated, certified and ready to hit the ground running in your career.  Not only do we educate you in the most progressive Beauty Industry trends, we also have state of the art equipment, products, facilities and educators to give you the edge you will need in becoming successful and build your personal career and wealth goals.
We have many educational opportunities in: Permanent Make Up, Eyelash Extensions as well as Continual Education classes in Esthetics.  We have on-line and on-site training available to accommodate your lifestyle.  We also offer a full apprenticeship program and certification for Permanent Make Up (known as a Body Art) licensing requirements.
At Minnesota Brow Lash Studio & Academy, we are certified and accredited as a Private School under the Minnesota State Board of Higher Education.  Feel confident that you will not only get the most comprehensive, hands on and personal training experience but you will also have life time educational refresher opportunities with us!  What does that mean?  It means that after taking our courses, if at any time, you wish to come back and be re-trained in a portion or all of what you had signed up to be trained on, it won't cost you a penny!  We know that as humans we don't grasp every concept and learnings the first time, so we offer this to our students as a life time of educational benefit…it's our way of stating we are with you for the long run.  We know this is YOUR CAREER!
To learn more about who we are and what educational opportunities we offer, please check out our web site:
www.mnbrowlashacademy.com Or, call us: (952) 938-0358
Sign up to receive information