When we talk about permanent make-up and lash extensions, we often talk about the convenience and simplification this can bring to an individual's beauty routine. Waking up with thick, long lashes and eyebrows that perfectly frame your face, is a desirable outcome.
For some, permanent make-up means so much more. There are a large number of individuals who suffer from health conditions, which contribute to hair loss. Natalie is a microblading client who battled Hashimoto's Disease for many years. The condition affects her thyroid and can contribute to hair loss.
Natalie's eyebrows were thinning. She would spend countless hours trying to fill in her brows, only to lose the look when she showered or jumped into the ocean while on vacation. It was a frustrating endeavor for her.
It was actually Natalie's 90-year-old grandmother who introduced her to permanent make-up. Her grandmother had the same issue with thinning eyebrows, and sought out permanent make-up for her eyebrows some years ago.
When Natalie discovered microblading she put her trust in the Minnesota Brow Lash Academy and Studio. After a consultation she was able to see what her microbladed brows with shading would look like.
For Natalie,  the result was more than she had hoped for. She shared that she was able to shower, swim and participate in activities that once would mean having her eyebrows disappear. This was no longer the case.
With the microblading and shading, otherwise known as the Ombre, Natalie not only had the maintenance free eyebrows she desired, but also the confidence she craved, that came with knowing her eyebrows weren't going anywhere.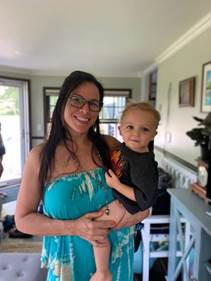 It was a full-circle moment when Natalie became a grandmother herself. Whether chasing her grandson around, or swimming with him on vacation, her eyebrows stayed in place. She shared, "There was a time when I would have hesitated to get in the water, because I knew I'd come out without eyebrows. That is no longer the case!"
Remember that permanent make-up and lash extensions often mean so much more than a time saver, or beauty enhancement. Permanent make-up is a tool to help those who struggle with health conditions that can make having their own natural brows impossible.
Sign up to receive information